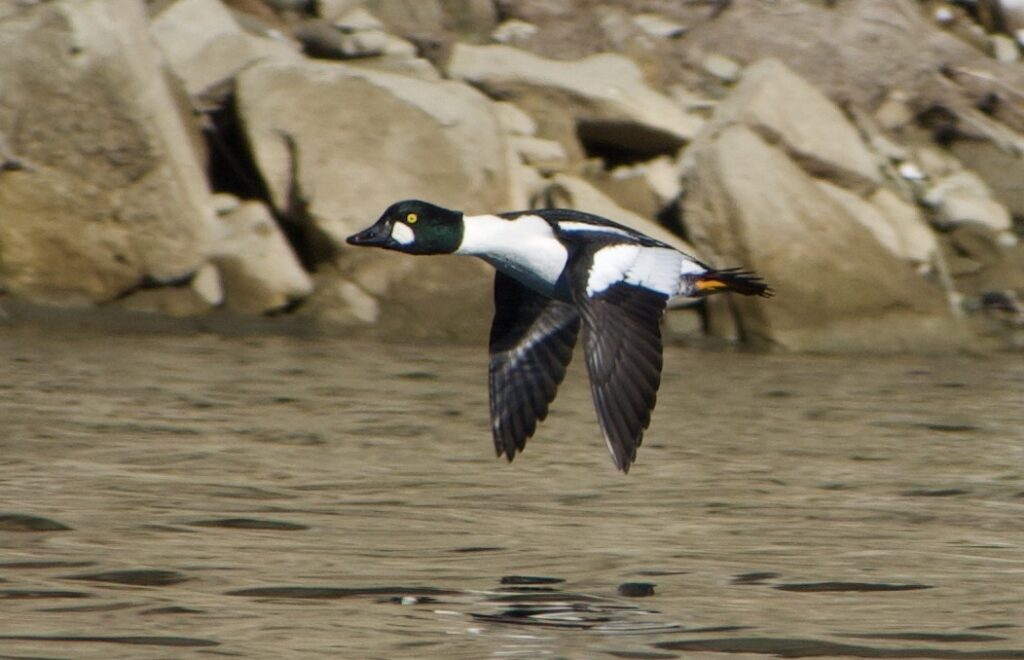 A lot of exciting scouting has been going on in the Carpinteria CBC circle lately:
The Haida Street Baltimore Oriole continues to be seen, most recently by Alex Castelein this morning.
Andrea Adams-Morden found three Ring-necked Ducks in the Kim's Market pond today.
I found some Mountain Quail yesterday near Romero Saddle.
Yesterday Jenny Slaughter, Craig Murray, Alan Prichard, and I visited Jameson Lake. (Alan is the dam caretaker there, and provided access for us to drive to the usually inaccessible-by-car location.) Highlights included 2 male Common Goldeneyes, at least 2 Violet-green Swallows, 8 Wilson's Snipes, and a very-unusual-for-the-date Vaux's Swift flying north of the lake with a White-throated Swift.
Details of the Jameson Lake scouting trip are in the eBird trip report I created.
The full report of species reported in eBird over the last 14 days for the Carpinteria and Santa Barbara CBC circles is below. We're up to 139 species reported. How high can we get by count day? More importantly, how high can we get on the count itself??? 🙂
BIRDS SEEN IN THE CARPINTERIA CBC CIRCLE (last 14 days)

SEEN SPECIES (RARE BIRDS FIRST): 139

Category 5 (never seen on the Carp CBC):

Vaux's Swift, 2021-12-04, Jameson Lake, CA
Violet-green Swallow, 2021-12-04, Jameson Lake, CA
Mountain Quail, 2021-12-04, Romero Saddle, Los Padres National Forest
Baltimore Oriole, 2021-12-05, 1477 Haida St, Carpinteria US-CA 34.40270, -119.50779

Category 4 (seen 1 time on the Carp CBC):

Lewis's Woodpecker, 2021-12-02, Valley Club of Montecito, Santa Barbara US-CA 34.43003, -119.60733
Tree Swallow, 2021-11-26, Santa Monica Creek
Hermit Warbler, 2021-11-29, Seaside Gardens

Category 3 (seen 2 to 4 times on the Carp CBC):

Common Goldeneye, 2021-12-04, Jameson Lake, CA
White-throated Swift, 2021-12-04, Jameson Lake, CA
Bonaparte's Gull, 2021-12-03, 3485 Padaro Ln, Carpinteria US-CA 34.41399, -119.55807
Yellow-crowned Night-Heron, 2021-12-04, CA, Carpinteria, Carpinteria Salt Marsh & Beach
Red-breasted Nuthatch, 2021-11-25, Ortega Ridge pines
Brown Creeper, 2021-12-03, Toro Canyon Park
Pine Siskin, 2021-12-01, Gobernador Canyon Road 
Rufous-crowned Sparrow, 2021-12-04, Romero Saddle, Los Padres National Forest
Orchard Oriole, 2021-11-30, CA, Carpinteria, Santa Monica Creek bike path
Bullock's Oriole, 2021-11-26, Sawyer Ave bottlebrush

Category 2 (seen 5 to 10 times on the Carp CBC):

Canada Goose, 2021-11-28, Carpinteria Salt Marsh Reserve (restricted access)
American Wigeon, 2021-12-04, Jameson Lake, CA
Gadwall, 2021-12-04, Jameson Lake, CA
Northern Shoveler, 2021-12-04, Jameson Lake, CA
Surf Scoter, 2021-12-02, Loon Pt.
Hooded Merganser, 2021-12-02, Franklin Park (Santa Barbara Co.)
Red-breasted Merganser, 2021-11-28, Carpinteria Salt Marsh Reserve (restricted access)
Horned Grebe, 2021-12-02, Carpinteria City Beach
Sanderling, 2021-12-05, Carpinteria Bluffs Nature Preserve
Western Sandpiper, 2021-11-28, Carpinteria Salt Marsh Reserve (restricted access)
Wilson's Snipe, 2021-12-04, Jameson Lake, CA
Herring Gull, 2021-11-30, Carpinteria SB
Glaucous-winged Gull, 2021-12-02, Carpinteria City Beach
Common Loon, 2021-12-02, Loon Pt.
Brandt's Cormorant, 2021-12-05, Carpinteria Bluffs Nature Preserve
Osprey, 2021-12-04, CA, Carpinteria, Carpinteria Salt Marsh & Beach
Northern Harrier, 2021-12-04, Jameson Lake, CA
Hairy Woodpecker, 2021-12-01, Gobernador Canyon Road 
Merlin, 2021-12-01, Gobernador Canyon Road 
Peregrine Falcon, 2021-12-05, Carpinteria Bluffs Nature Preserve
Loggerhead Shrike, 2021-12-05, Carpinteria Bluffs Nature Preserve
Steller's Jay, 2021-12-04, Jameson Lake, CA
Marsh Wren, 2021-12-04, CA, Carpinteria, Carpinteria Salt Marsh & Beach
American Pipit, 2021-12-04, Jameson Lake, CA
Purple Finch, 2021-12-05, Santa Monica Creek
Red-winged Blackbird, 2021-12-02, Carpinteria Creek Estuary
Brown-headed Cowbird, 2021-12-02, Carpinteria Creek Estuary
Black-throated Gray Warbler, 2021-12-02, Franklin Park (Santa Barbara Co.)
Wilson's Warbler, 2021-12-03, Seaside Gardens
Scaly-breasted Munia, 2021-12-02, Carpinteria Creek Estuary

Category 1 (seen on all 11 Carp CBCs):

Mallard, 2021-12-05, Kim's Market pond
Green-winged Teal, 2021-12-04, Jameson Lake, CA
Ring-necked Duck, 2021-12-05, Kim's Market pond
Bufflehead, 2021-12-05, Kim's Market pond
Ruddy Duck, 2021-12-04, Jameson Lake, CA
California Quail, 2021-12-05, Casitas Fire Station (USFS)
Pied-billed Grebe, 2021-12-05, Kim's Market pond
Eared Grebe, 2021-12-04, Jameson Lake, CA
Western Grebe, 2021-12-04, Carpinteria State Beach, Carpinteria US-CA 34.39019, -119.51971
Rock Pigeon, 2021-12-02, Carpinteria High School, Carpinteria US-CA (34.4101,-119.5189)
Band-tailed Pigeon, 2021-12-04, Romero Saddle, Los Padres National Forest
Eurasian Collared-Dove, 2021-12-05, Casitas Fire Station (USFS)
Mourning Dove, 2021-12-05, Casitas Fire Station (USFS)
Anna's Hummingbird, 2021-12-05, Carpinteria Cemetery
Allen's Hummingbird, 2021-12-05, Santa Monica Creek
American Coot, 2021-12-05, Kim's Market pond
Black-bellied Plover, 2021-12-02, Loon Pt.
Semipalmated Plover, 2021-11-28, Carpinteria Salt Marsh Reserve (restricted access)
Killdeer, 2021-12-05, Carpinteria Cemetery
Whimbrel, 2021-11-30, Carpinteria Bluffs seal haulout
Long-billed Curlew, 2021-12-02, Carpinteria Creek Estuary
Marbled Godwit, 2021-11-30, Carpinteria SB
Black Turnstone, 2021-12-05, Carpinteria Bluffs Nature Preserve
Least Sandpiper, 2021-11-30, Carpinteria Salt Marsh Nature Park
Long-billed Dowitcher, 2021-11-30, Carpinteria Bluffs seal haulout
Spotted Sandpiper, 2021-12-02, Loon Pt.
Greater Yellowlegs, 2021-12-04, CA, Carpinteria, Carpinteria Salt Marsh & Beach
Willet, 2021-12-04, CA, Carpinteria, Carpinteria Salt Marsh & Beach
Heermann's Gull, 2021-12-04, CA, Carpinteria, Carpinteria Salt Marsh & Beach
Ring-billed Gull, 2021-12-04, CA, Carpinteria, Carpinteria Salt Marsh & Beach
Western Gull, 2021-12-05, Carpinteria Bluffs Nature Preserve
California Gull, 2021-12-04, CA, Carpinteria, Carpinteria Salt Marsh & Beach
Royal Tern, 2021-12-04, CA, Carpinteria, Carpinteria Salt Marsh & Beach
Pelagic Cormorant, 2021-11-30, Carpinteria Bluffs seal haulout
Double-crested Cormorant, 2021-12-04, CA, Carpinteria, Carpinteria Salt Marsh & Beach
Brown Pelican, 2021-12-05, Carpinteria Bluffs Nature Preserve
Great Blue Heron, 2021-12-05, Carpinteria Bluffs Nature Preserve
Great Egret, 2021-12-04, Jameson Lake, CA
Snowy Egret, 2021-12-05, Kim's Market pond
Turkey Vulture, 2021-12-05, Santa Monica Creek
Sharp-shinned Hawk, 2021-12-05, Casitas Fire Station (USFS)
Cooper's Hawk, 2021-12-04, CA, Carpinteria, Carpinteria Salt Marsh & Beach
Red-shouldered Hawk, 2021-12-03, Santa Barbara Polo and Racquet Club (restricted access)
Red-tailed Hawk, 2021-12-05, Santa Monica Creek
Belted Kingfisher, 2021-12-04, Jameson Lake, CA
Red-breasted Sapsucker, 2021-12-05, Casitas Fire Station (USFS)
Acorn Woodpecker, 2021-12-05, Santa Monica Creek
Downy Woodpecker, 2021-11-29, Shemara Street bottlebrush trees, Carpinteria
Nuttall's Woodpecker, 2021-12-03, Toro Canyon Park
Northern Flicker, 2021-12-05, Casitas Fire Station (USFS)
American Kestrel, 2021-12-01, Gobernador Canyon Road 
Black Phoebe, 2021-12-05, Carpinteria Cemetery
Say's Phoebe, 2021-12-05, Carpinteria Cemetery
Cassin's Kingbird, 2021-12-02, Valley Club of Montecito, Santa Barbara US-CA 34.43003, -119.60733
Hutton's Vireo, 2021-12-03, Toro Canyon Park
California Scrub-Jay, 2021-12-05, Santa Monica Creek
American Crow, 2021-12-05, Santa Monica Creek
Common Raven, 2021-11-30, Toro Canyon Park
Oak Titmouse, 2021-12-05, Carpinteria Cemetery
Bushtit, 2021-12-05, 1477 Haida St, Carpinteria US-CA 34.40270, -119.50779
White-breasted Nuthatch, 2021-12-05, 1477 Haida St, Carpinteria US-CA 34.40270, -119.50779
Canyon Wren, 2021-11-28, Romero Canyon
House Wren, 2021-12-03, Seaside Gardens
Bewick's Wren, 2021-12-05, Carpinteria Cemetery
Blue-gray Gnatcatcher, 2021-11-30, Carpinteria Salt Marsh Nature Park
Ruby-crowned Kinglet, 2021-12-05, Santa Monica Creek
Wrentit, 2021-12-05, Casitas Fire Station (USFS)
Western Bluebird, 2021-12-05, Carpinteria Cemetery
Hermit Thrush, 2021-12-05, Santa Monica Creek
American Robin, 2021-12-04, Santa Ynez River--Juncal
California Thrasher, 2021-12-05, Carpinteria Bluffs Nature Preserve
Northern Mockingbird, 2021-12-05, 1477 Haida St, Carpinteria US-CA 34.40270, -119.50779
European Starling, 2021-12-05, Carpinteria Bluffs Nature Preserve
Cedar Waxwing, 2021-11-25, Heath Ranch Park
House Finch, 2021-12-05, Santa Monica Creek
Lesser Goldfinch, 2021-12-05, Santa Monica Creek
American Goldfinch, 2021-12-05, Casitas Fire Station (USFS)
Fox Sparrow, 2021-12-03, Toro Canyon Park
Dark-eyed Junco, 2021-12-05, Carpinteria Cemetery
White-crowned Sparrow, 2021-12-05, Santa Monica Creek
Golden-crowned Sparrow, 2021-12-05, Casitas Fire Station (USFS)
Savannah Sparrow, 2021-11-28, Carpinteria Salt Marsh Reserve (restricted access)
Song Sparrow, 2021-12-04, Jameson Lake, CA
Lincoln's Sparrow, 2021-12-04, Carpinteria Creek Estuary
California Towhee, 2021-12-05, Santa Monica Creek
Spotted Towhee, 2021-12-05, Casitas Fire Station (USFS)
Brewer's Blackbird, 2021-12-05, Casitas Fire Station (USFS)
Orange-crowned Warbler, 2021-12-05, 1477 Haida St, Carpinteria US-CA 34.40270, -119.50779
Common Yellowthroat, 2021-12-05, 1477 Haida St, Carpinteria US-CA 34.40270, -119.50779
Yellow-rumped Warbler, 2021-12-05, Santa Monica Creek
Townsend's Warbler, 2021-12-05, 1477 Haida St, Carpinteria US-CA 34.40270, -119.50779
House Sparrow, 2021-12-05, Santa Monica Creek

MISSED SPECIES (COMMON BIRDS FIRST): 100

Category 1 (seen on all 11 Carp CBCs):

Black-crowned Night-Heron
Great Horned Owl
Western Meadowlark

Category 2 (seen 5 to 10 times on the Carp CBC):

Blue-winged Teal
Northern Pintail
Lesser Scaup
Common Merganser
Clark's Grebe
Greater Roadrunner
Sora
Snowy Plover
Dunlin
Parasitic Jaeger
Common Murre
Short-billed Gull
Caspian Tern
Forster's Tern
Red-throated Loon
Pacific Loon
Black-vented Shearwater
American White Pelican
Green Heron
White-tailed Kite
Barn Owl
Western Screech-Owl
Mountain Chickadee
Rock Wren
Chipping Sparrow
Lark Sparrow
White-throated Sparrow
Black-and-white Warbler
Yellow Warbler

Category 3 (seen 2 to 4 times on the Carp CBC):

Snow Goose
Brant
Greater White-fronted Goose
Wood Duck
Cinnamon Teal
Canvasback
Common Ground-Dove
Costa's Hummingbird
Black Oystercatcher
Surfbird
Pomarine Jaeger
Rhinoceros Auklet
Elegant Tern
Golden Eagle
Gray Hawk
Northern Pygmy-Owl
Yellow-bellied Sapsucker
Pacific Wren
Golden-crowned Kinglet
Varied Thrush
Phainopepla
Lawrence's Goldfinch
Harris's Sparrow
Swamp Sparrow
Hooded Oriole
Palm Warbler

Category 4 (seen 1 time on the Carp CBC):

Cackling Goose
Black-chinned Hummingbird
Rufous Hummingbird
Virginia Rail
Pacific Golden-Plover
Ruddy Turnstone
Red Knot
Solitary Sandpiper
Lesser Yellowlegs
Iceland Gull
Black Skimmer
Northern Fulmar
White-faced Ibis
Bald Eagle
Ferruginous Hawk
Long-eared Owl
Red-naped Sapsucker
Eastern Phoebe
Western Kingbird
Northern Rough-winged Swallow
Barn Swallow
Chestnut-backed Chickadee
Pygmy Nuthatch
Mountain Bluebird
Bell's Sparrow
Vesper Sparrow
Green-tailed Towhee
Great-tailed Grackle
Lucy's Warbler
Nashville Warbler
Blackburnian Warbler
Northern Waterthrush
Prairie Warbler
Painted Redstart
Western Tanager
Rose-breasted Grosbeak
Black-headed Grosbeak

Category 5 (never seen on the Carp CBC):

Tropical Kingbird
Red Crossbill
Northern Waterthrush
Prairie Warbler
Painted Redstart
Western Tanager
Rose-breasted Grosbeak
Black-headed Grosbeak

BIRDS SEEN IN THE SANTA BARBARA CBC CIRCLE (last 14 days)

SEEN SPECIES (RARE BIRDS FIRST): 170

Category 5 (never seen on the Carp CBC):

Mute Swan, 2021-12-05, Lake Los Carneros Park, Goleta US-CA 34.44146, -119.84501
American Bittern, 2021-12-05, Lake Los Carneros Park, Goleta US-CA 34.44146, -119.84501
Black-necked Stilt, 2021-12-05, Goleta Beach County Park (including east end of Goleta Slough)
Redhead, 2021-12-04, Coal Oil Point--Devereux Beach and Sands Beach
Short-eared Owl, 2021-12-02, More Mesa
Greater Scaup, 2021-12-01, Lake Los Carneros Park
Swinhoe's White-eye, 2021-11-28, East Side neighborhoods
American Redstart, 2021-11-28, Atascadero Creek at Patterson Ave.
White-winged Scoter, 2021-11-28, UCSB--Campus Point
Burrowing Owl, 2021-11-27, More Mesa
Tropical Kingbird, 2021-12-05, Lake Los Carneros Park
Tennessee Warbler, 2021-11-23, 6900 Market Place Drive, Goleta, California, US (34.429, -119.87)
Summer Tanager, 2021-12-05, Lake Los Carneros Park, Goleta US-CA 34.44146, -119.84501

Category 4 (seen 1 time on the Carp CBC):

Cackling Goose, 2021-12-03, Goleta Beach County Park (including east end of Goleta Slough)
Virginia Rail, 2021-11-24, Lake Los Carneros Park
Pacific Golden-Plover, 2021-11-27, Devereux Slough
Iceland Gull, 2021-11-22, Santa Barbara Harbor--Stearns Wharf
Black Skimmer, 2021-11-27, Mission Creek outflow (SBA Co.)
White-faced Ibis, 2021-11-24, Devereux Slough
Bald Eagle, 2021-11-22, Andree Clark Bird Refuge
Barn Swallow, 2021-11-27, Andree Clark Bird Refuge
Chestnut-backed Chickadee, 2021-12-04, Atascadero Creek at Patterson Ave.
Great-tailed Grackle, 2021-12-04, Noah's House near LLC
Nashville Warbler, 2021-11-28, East Side neighborhoods
Western Tanager, 2021-12-05, Lake Los Carneros Park

Category 3 (seen 2 to 4 times on the Carp CBC):

Snow Goose, 2021-11-28, Devereux Slough
Canvasback, 2021-11-27, UCSB--Campus Lagoon
Common Goldeneye, 2021-11-25, UCSB--Campus Lagoon
White-throated Swift, 2021-12-05, Lake Los Carneros Park, Goleta US-CA 34.44146, -119.84501
Costa's Hummingbird, 2021-12-01, Morada Lane
Bonaparte's Gull, 2021-11-24, Lake Los Carneros Park
Elegant Tern, 2021-11-22, UCSB--Campus Lagoon
Yellow-crowned Night-Heron, 2021-12-05, Goleta Beach County Park (including east end of Goleta Slough)
Phainopepla, 2021-11-29, Carlo/Covington Neighborhood
Pine Siskin, 2021-12-02, 5049 Walnut Park Drive
Rufous-crowned Sparrow, 2021-11-24, Hike To Cupuel

Category 2 (seen 5 to 10 times on the Carp CBC):

Canada Goose, 2021-12-05, Goleta Beach County Park (including east end of Goleta Slough)
American Wigeon, 2021-12-05, Lake Los Carneros Park
Gadwall, 2021-12-04, Devereux Slough
Northern Shoveler, 2021-12-05, Lake Los Carneros Park, Goleta US-CA 34.44146, -119.84501
Northern Pintail, 2021-12-04, UCSB North Campus Open Space (formerly Ocean Meadows Golf Course)
Lesser Scaup, 2021-12-05, Goleta Beach County Park (including east end of Goleta Slough)
Surf Scoter, 2021-12-04, UCSB--Campus Lagoon
Hooded Merganser, 2021-12-05, Lake Los Carneros Park, Goleta US-CA 34.44146, -119.84501
Red-breasted Merganser, 2021-12-04, Devereux Slough
Horned Grebe, 2021-11-28, Lake Los Carneros Park
Snowy Plover, 2021-12-04, Devereux Slough
Sanderling, 2021-12-04, Coal Oil Point--Devereux Beach and Sands Beach
Dunlin, 2021-11-24, Coal Oil Point--Devereux Beach and Sands Beach
Western Sandpiper, 2021-11-28, Devereux Slough
Wilson's Snipe, 2021-11-30, Atascadero Creek-bed
Short-billed Gull, 2021-12-03, Goleta Beach County Park (including east end of Goleta Slough)
Herring Gull, 2021-12-04, Lake Los Carneros Park
Glaucous-winged Gull, 2021-12-05, Lake Los Carneros Park
Black-vented Shearwater, 2021-11-28, UCSB--Campus Point
Brandt's Cormorant, 2021-12-04, Coal Oil Point--Devereux Beach and Sands Beach
Green Heron, 2021-11-30, Atascadero Creek at Patterson Ave.
Osprey, 2021-11-30, Goleta Beach County Park (including east end of Goleta Slough)
White-tailed Kite, 2021-12-04, Coal Oil Point--Devereux Beach and Sands Beach
Northern Harrier, 2021-12-02, More Mesa
Barn Owl, 2021-11-27, More Mesa
Western Screech-Owl, 2021-11-26, Paradise Park, Santa Barbara US-CA 34.54194, -119.81171
Hairy Woodpecker, 2021-12-05, The Santa Barbara Botanic Garden, Santa Barbara US-CA 34.45751, -119.70985
Merlin, 2021-11-28, MacKenzie Park
Peregrine Falcon, 2021-12-01, Morada Lane
Loggerhead Shrike, 2021-11-27, More Mesa
Marsh Wren, 2021-11-24, Mission Creek outflow (SBA Co.)
American Pipit, 2021-12-04, Coal Oil Point--Devereux Beach and Sands Beach
White-throated Sparrow, 2021-12-04, Atascadero Creek at Patterson Ave.
Red-winged Blackbird, 2021-12-05, Lake Los Carneros Park, Goleta US-CA 34.44146, -119.84501
Brown-headed Cowbird, 2021-12-03, Goleta Beach County Park (including east end of Goleta Slough)
Black-and-white Warbler, 2021-11-30, Atascadero Creek-bed
Yellow Warbler, 2021-11-22, UCSB--campus
Wilson's Warbler, 2021-12-05, Lake Los Carneros Park, Goleta US-CA 34.44146, -119.84501
Scaly-breasted Munia, 2021-12-05, Santa Barbara Botanic Garden

Category 1 (seen on all 11 Carp CBCs):

Mallard, 2021-12-05, Lake Los Carneros Park, Goleta US-CA 34.44146, -119.84501
Green-winged Teal, 2021-12-05, Lake Los Carneros Park
Ring-necked Duck, 2021-11-24, 950 N La Patera Ln, Goleta US-CA 34.45718, -119.84294
Bufflehead, 2021-12-05, Lake Los Carneros Park
Ruddy Duck, 2021-12-05, Lake Los Carneros Park, Goleta US-CA 34.44146, -119.84501
California Quail, 2021-12-04, Lake Los Carneros Park
Pied-billed Grebe, 2021-12-05, Lake Los Carneros Park, Goleta US-CA 34.44146, -119.84501
Eared Grebe, 2021-12-05, Lake Los Carneros Park, Goleta US-CA 34.44146, -119.84501
Western Grebe, 2021-12-03, UCSB--East beach (formerly Goleta Bay West beach)
Rock Pigeon, 2021-12-05, Goleta Beach County Park (including east end of Goleta Slough)
Band-tailed Pigeon, 2021-12-04, San Jose Creek--near Berkeley Road
Eurasian Collared-Dove, 2021-12-04, Lake Los Carneros Park
Mourning Dove, 2021-12-04, 3056 Braemar Dr, Santa Barbara US-CA 34.40705, -119.74317
Anna's Hummingbird, 2021-12-05, Santa Barbara Botanic Garden
Allen's Hummingbird, 2021-12-05, Goleta Beach County Park (including east end of Goleta Slough)
American Coot, 2021-12-05, Lake Los Carneros Park, Goleta US-CA 34.44146, -119.84501
Black-bellied Plover, 2021-12-04, Coal Oil Point--Devereux Beach and Sands Beach
Semipalmated Plover, 2021-12-04, Coal Oil Point--Devereux Beach and Sands Beach
Killdeer, 2021-12-05, Lake Los Carneros Park
Whimbrel, 2021-12-05, Goleta Beach County Park (including east end of Goleta Slough)
Long-billed Curlew, 2021-12-05, Goleta Beach County Park (including east end of Goleta Slough)
Marbled Godwit, 2021-12-05, Goleta Beach County Park (including east end of Goleta Slough)
Black Turnstone, 2021-12-04, Coal Oil Point--Devereux Beach and Sands Beach
Least Sandpiper, 2021-12-04, Coal Oil Point--Devereux Beach and Sands Beach
Long-billed Dowitcher, 2021-12-05, Lake Los Carneros Park
Spotted Sandpiper, 2021-12-05, Goleta Beach County Park (including east end of Goleta Slough)
Greater Yellowlegs, 2021-12-05, Lake Los Carneros Park
Willet, 2021-12-05, Goleta Beach County Park (including east end of Goleta Slough)
Heermann's Gull, 2021-12-05, Goleta Beach County Park (including east end of Goleta Slough)
Ring-billed Gull, 2021-12-05, Lake Los Carneros Park, Goleta US-CA 34.44146, -119.84501
Western Gull, 2021-12-05, Lake Los Carneros Park
California Gull, 2021-12-05, Lake Los Carneros Park, Goleta US-CA 34.44146, -119.84501
Royal Tern, 2021-12-03, Coal Oil Point--Devereux Beach and Sands Beach
Pelagic Cormorant, 2021-12-03, Coal Oil Point--Devereux Beach and Sands Beach
Double-crested Cormorant, 2021-12-05, Goleta Beach County Park (including east end of Goleta Slough)
Brown Pelican, 2021-12-05, Goleta Beach County Park (including east end of Goleta Slough)
Great Blue Heron, 2021-12-05, Goleta Beach County Park (including east end of Goleta Slough)
Great Egret, 2021-12-05, Goleta Beach County Park (including east end of Goleta Slough)
Snowy Egret, 2021-12-05, Goleta Beach County Park (including east end of Goleta Slough)
Black-crowned Night-Heron, 2021-12-05, Goleta Beach County Park (including east end of Goleta Slough)
Turkey Vulture, 2021-12-05, Santa Barbara Botanic Garden
Sharp-shinned Hawk, 2021-12-04, 5049 Walnut Park Drive
Cooper's Hawk, 2021-12-04, UCSB North Campus Open Space (formerly Ocean Meadows Golf Course)
Red-shouldered Hawk, 2021-12-05, Goleta Beach County Park (including east end of Goleta Slough)
Red-tailed Hawk, 2021-12-05, Santa Barbara Botanic Garden
Great Horned Owl, 2021-12-03, 3056 Braemar Dr, Santa Barbara US-CA 34.40692, -119.74324
Belted Kingfisher, 2021-12-05, Lake Los Carneros Park, Goleta US-CA 34.44146, -119.84501
Red-breasted Sapsucker, 2021-12-05, Lake Los Carneros Park
Acorn Woodpecker, 2021-12-05, Santa Barbara Botanic Garden
Downy Woodpecker, 2021-12-05, University of California - Santa Barbara, Goleta US-CA 34.41495, -119.84802
Nuttall's Woodpecker, 2021-12-05, Lake Los Carneros Park, Goleta US-CA 34.44146, -119.84501
Northern Flicker, 2021-12-05, Santa Barbara Botanic Garden
American Kestrel, 2021-12-05, Lake Los Carneros Park, Goleta US-CA 34.44146, -119.84501
Black Phoebe, 2021-12-05, Santa Barbara Botanic Garden
Say's Phoebe, 2021-12-04, 3056 Braemar Dr, Santa Barbara US-CA 34.40705, -119.74317
Cassin's Kingbird, 2021-12-05, Lake Los Carneros Park, Goleta US-CA 34.44146, -119.84501
Hutton's Vireo, 2021-12-05, Lake Los Carneros Park
California Scrub-Jay, 2021-12-05, Santa Barbara Botanic Garden
American Crow, 2021-12-05, Santa Barbara Botanic Garden
Common Raven, 2021-12-05, The Santa Barbara Botanic Garden, Santa Barbara US-CA 34.45751, -119.70985
Oak Titmouse, 2021-12-05, Santa Barbara Botanic Garden
Bushtit, 2021-12-05, Lake Los Carneros Park
White-breasted Nuthatch, 2021-12-05, The Santa Barbara Botanic Garden, Santa Barbara US-CA 34.45751, -119.70985
Canyon Wren, 2021-11-24, Hike To Cupuel
House Wren, 2021-12-04, Coal Oil Point--Devereux Beach and Sands Beach
Bewick's Wren, 2021-12-05, Santa Barbara Botanic Garden
Blue-gray Gnatcatcher, 2021-12-05, The Santa Barbara Botanic Garden, Santa Barbara US-CA 34.45751, -119.70985
Ruby-crowned Kinglet, 2021-12-05, Santa Barbara Botanic Garden
Wrentit, 2021-12-05, Santa Barbara Botanic Garden
Western Bluebird, 2021-12-04, 2924 Paseo Del Refugio, Santa Barbara US-CA 34.44404, -119.72285
Hermit Thrush, 2021-12-05, Santa Barbara Botanic Garden
American Robin, 2021-12-05, Lake Los Carneros Park
California Thrasher, 2021-12-05, Lake Los Carneros Park
Northern Mockingbird, 2021-12-05, Goleta Beach County Park (including east end of Goleta Slough)
European Starling, 2021-12-04, 3056 Braemar Dr, Santa Barbara US-CA 34.40705, -119.74317
Cedar Waxwing, 2021-12-05, Lake Los Carneros Park
House Finch, 2021-12-05, Santa Barbara Botanic Garden
Lesser Goldfinch, 2021-12-05, Santa Barbara Botanic Garden
American Goldfinch, 2021-11-29, Atascadero Creek at Patterson Ave.
Fox Sparrow, 2021-12-05, Santa Barbara Botanic Garden
Dark-eyed Junco, 2021-12-05, The Santa Barbara Botanic Garden, Santa Barbara US-CA 34.45751, -119.70985
White-crowned Sparrow, 2021-12-05, Santa Barbara Botanic Garden
Golden-crowned Sparrow, 2021-12-05, Lake Los Carneros Park, Goleta US-CA 34.44146, -119.84501
Savannah Sparrow, 2021-12-03, Goleta Beach County Park (including east end of Goleta Slough)
Song Sparrow, 2021-12-05, Santa Barbara Botanic Garden
Lincoln's Sparrow, 2021-12-04, UCSB North Campus Open Space (formerly Ocean Meadows Golf Course)
California Towhee, 2021-12-05, Santa Barbara Botanic Garden
Spotted Towhee, 2021-12-05, Santa Barbara Botanic Garden
Western Meadowlark, 2021-12-05, Lake Los Carneros Park
Brewer's Blackbird, 2021-12-05, Camino Real Marketplace (including stakeout Rusty Blackbird 2000, 2001, 2002, 2003, 2009, 2013)
Orange-crowned Warbler, 2021-12-05, Santa Barbara Botanic Garden
Common Yellowthroat, 2021-12-05, Goleta Beach County Park (including east end of Goleta Slough)
Yellow-rumped Warbler, 2021-12-05, Santa Barbara Botanic Garden
Townsend's Warbler, 2021-12-05, Lake Los Carneros Park, Goleta US-CA 34.44146, -119.84501
House Sparrow, 2021-12-05, Camino Real Marketplace (including stakeout Rusty Blackbird 2000, 2001, 2002, 2003, 2009, 2013)

MISSED SPECIES (COMMON BIRDS FIRST): 77

Category 2 (seen 5 to 10 times on the Carp CBC):

Blue-winged Teal
Common Merganser
Clark's Grebe
Greater Roadrunner
Sora
Parasitic Jaeger
Common Murre
Caspian Tern
Forster's Tern
Red-throated Loon
Pacific Loon
Common Loon
American White Pelican
Steller's Jay
Mountain Chickadee
Rock Wren
Purple Finch
Chipping Sparrow
Lark Sparrow
Black-throated Gray Warbler

Category 3 (seen 2 to 4 times on the Carp CBC):

Brant
Greater White-fronted Goose
Wood Duck
Cinnamon Teal
Common Ground-Dove
Black Oystercatcher
Surfbird
Pomarine Jaeger
Rhinoceros Auklet
Golden Eagle
Gray Hawk
Northern Pygmy-Owl
Yellow-bellied Sapsucker
Red-breasted Nuthatch
Brown Creeper
Pacific Wren
Golden-crowned Kinglet
Varied Thrush
Lawrence's Goldfinch
Harris's Sparrow
Swamp Sparrow
Orchard Oriole
Hooded Oriole
Bullock's Oriole
Palm Warbler

Category 4 (seen 1 time on the Carp CBC):

Black-chinned Hummingbird
Rufous Hummingbird
Ruddy Turnstone
Red Knot
Solitary Sandpiper
Lesser Yellowlegs
Northern Fulmar
Ferruginous Hawk
Long-eared Owl
Red-naped Sapsucker
Lewis's Woodpecker
Eastern Phoebe
Western Kingbird
Northern Rough-winged Swallow
Tree Swallow
Pygmy Nuthatch
Mountain Bluebird
Bell's Sparrow
Vesper Sparrow
Green-tailed Towhee
Lucy's Warbler
Blackburnian Warbler
Northern Waterthrush
Prairie Warbler
Hermit Warbler
Painted Redstart
Rose-breasted Grosbeak
Black-headed Grosbeak

Category 5 (never seen on the Carp CBC):

Mountain Quail
Red Crossbill
Yellow-breasted Chat
Baltimore Oriole