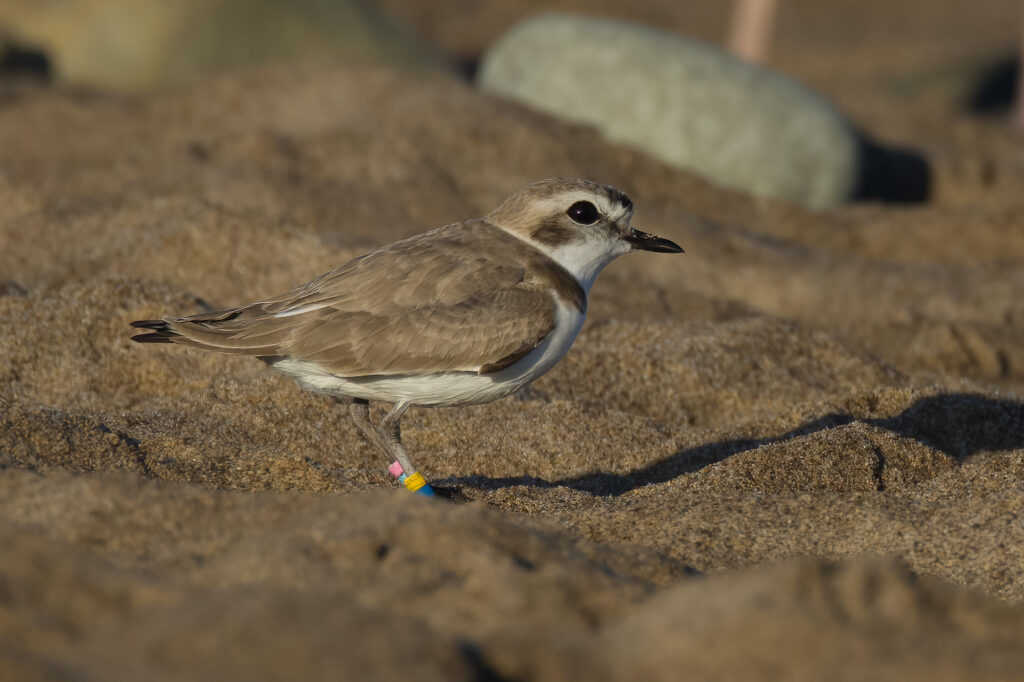 For this month's outing I thought we'd head back to a place we've visited a few times before: The mouth of Carpinteria Creek in the Carpinteria State Beach campground.
Important Note: Because it will be a very high tide in the morning, I'm proposing that we have our outing at the special time of 2 p.m. on Saturday, February 18, 2023. We'll meet at the end of Linden Avenue before walking to the mouth of Carpinteria Creek (details below).
I'm especially hoping to look for Snowy Plovers on this outing. Yesterday (Saturday, February 11), in response to a report from Carpinteria Birdwatchers member Sally Gundlach, I was able to check out a flock of 22 Snowy Plovers on the beach just east of the mouth of the creek. Among them were two female birds that we know well: pa:yb, the four-year-old bird that nested on our beach last summer, successfully fledging two chicks, and py:rr, the two-year-old bird that made four nesting attempts there last summer, with one of her eggs having been rescued and successfully reared at the Santa Barbara Zoo before the resulting chick, banded pa:bw, was released at Coal Oil Point.
It's still pretty early for Snowy Plover nesting, but it's exciting that these two birds are back and hanging around. Hopefully they'll still be there on Saturday!
Location: Carpinteria State Beach and the mouth of Carpinteria Creek
Date/time: Saturday, February, 18, 2022, 2:00 p.m. – 4:00 p.m. (SPECIAL TIME)
Details: Meet at the south end of Linden Avenue in Carpinteria (at the beach) at 2 p.m. We will walk the beach east to just past Carpinteria Creek, observe the snowy plovers there (hopefully), before returning to our starting point.
As always, Carpinteria Birdwatcher outings are free and open to all ages and ability levels. Hope to see you there!