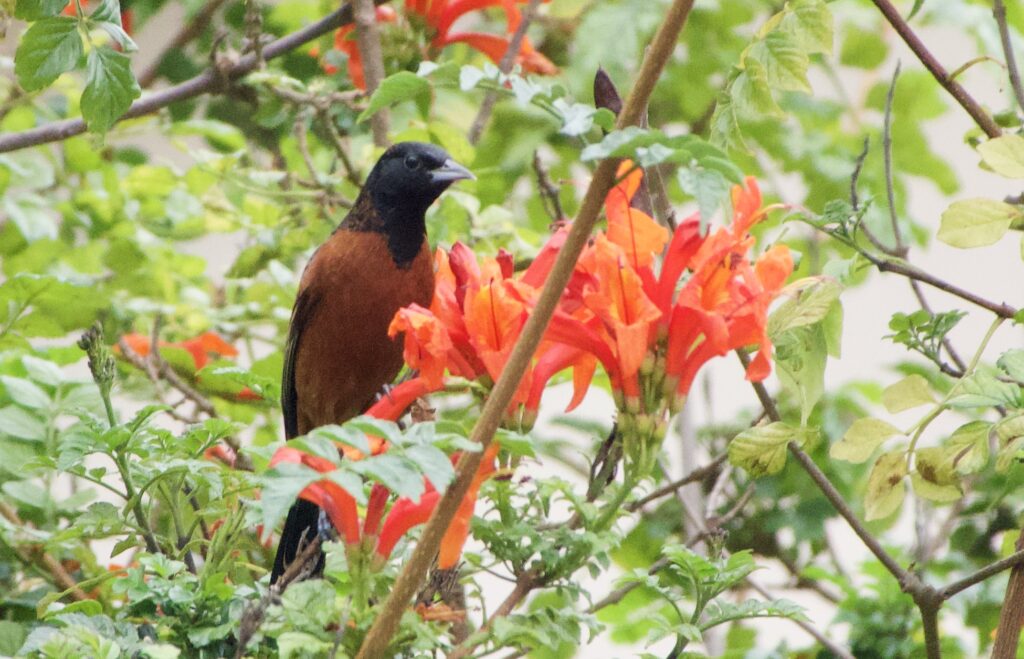 Here's an update on where things stand with the Carpinteria Christmas Bird Count (CBC), which will be happening Saturday, December 18, 2021.
Everyone who was assigned a location for last year's (cancelled) count, signed up again for this year's count, and indicated they were okay with just covering the same area they were assigned last year, should now have been officially assigned for this year. If you think you fall into that category and haven't heard from us, let me know by emailing [email protected].
This week I'll be getting everyone else who has signed up to participate this year assigned to a specific location. You should receive that assignment by next Saturday, December 4, 2021. I appreciate everyone's patience while we get the assignments squared away.
There's still time to sign up if you haven't yet. See the sign-up form here if you want to take part:
2021 Carpinteria CBC Sign-up Form
As always, the latest info on the count is available on the Carpinteria CBC web page.
Scouting Report
Lots of great birds have been seen in the count circle lately. Some of the highlights from the past week are:
Orchard Oriole – A bunch of us saw the continuing adult male Orchard Oriole at Santa Monica Creek during the Carpinteria Birdwatchers outing on November 20 (eBird list). The bird has been seen as recently as November 26, when Teale Fristoe saw him (eBird list).
Tennessee Warbler – Noah Arthur found this species, which we've never had on the Carpinteria CBC, feeding in flowering bottlebrush near the corner of Haida Street and Shemara Street on November 20 (eBird list).
Baltimore Oriole – Eric Culbertson found an adult male of this species, also one we've never had on our CBC before, near the corner of Santa Ynez Avenue and La Tierra Lane on November 24 (eBird list).
Grasshopper Sparrow – Peter Gaede found one of these, also a species we've never had on the CBC, in the restricted-access portion of the Carpinteria Salt Marsh on November 27.
If you're interested in helping with scouting, go for it! Any eBird reports you submit from within the Carpinteria CBC circle help us plan for the big day. See the count circle map for our circle's boundaries.
I've been playing around with the data available in eBird and in the Carpinteria CBC species summary spreadsheet, and have written a tool that gives a report of all the birds reported in the last 14 days in the count circle, as well as all the birds we've had before on the CBC that have not been reported in the last 14 days.
Here's the output of that report as of a few minutes ago:
Total birds seen (rarest birds first): 117

Category 5 (never seen on the Carp CBC):

Baltimore Oriole, 2021-11-24, Santa Ynez Ave and La Tierra Ln
Tennessee Warbler, 2021-11-20, East Carp. town streets — Carpinteria US-CA (34.3978,-119.5094)

Category 4 (seen 1 time on the Carp CBC):

Tree Swallow, 2021-11-26, Santa Monica Creek

Category 3 (seen 2 to 4 times on the Carp CBC):

Snow Goose, 2021-11-16, CA, Carpinteria, Carpinteria Salt Marsh & Beach
White-throated Swift, 2021-11-28, Romero-Camuesa Rd
Bonaparte's Gull, 2021-11-23, Carpinteria Salt Marsh Reserve (restricted access)
Yellow-crowned Night-Heron, 2021-11-23, Carpinteria Salt Marsh Nature Park
Red-breasted Nuthatch, 2021-11-25, Ortega Ridge pines
Brown Creeper, 2021-11-17, Toro Canyon Park
Pine Siskin, 2021-11-28, Santa Ynez Ave and La Tierra Ln
Lawrence's Goldfinch, 2021-11-21, Lake Jocelyn
Rufous-crowned Sparrow, 2021-11-27, Romero Canyon
Orchard Oriole, 2021-11-26, Santa Monica Creek
Bullock's Oriole, 2021-11-26, Sawyer Ave bottlebrush

Category 2 (seen 5 to 10 times on the Carp CBC):

Canada Goose, 2021-11-28, Carpinteria Salt Marsh Reserve (restricted access)
Surf Scoter, 2021-11-20, Sand Point
Hooded Merganser, 2021-11-28, Carpinteria Salt Marsh Reserve (restricted access)
Red-breasted Merganser, 2021-11-28, Carpinteria Salt Marsh Reserve (restricted access)
Dunlin, 2021-11-20, Sand Point
Western Sandpiper, 2021-11-28, Carpinteria Salt Marsh Reserve (restricted access)
Common Murre, 2021-11-20, Padaro Beach
Osprey, 2021-11-28, Carpinteria Salt Marsh Reserve (restricted access)
Northern Harrier, 2021-11-28, Carpinteria Salt Marsh Reserve (restricted access)
Hairy Woodpecker, 2021-11-27, Romero Canyon
Merlin, 2021-11-23, Carpinteria Salt Marsh Reserve (restricted access)
Peregrine Falcon, 2021-11-20, La Conchita
Loggerhead Shrike, 2021-11-22, Carpinteria Bluffs seal haulout
Steller's Jay, 2021-11-27, Romero Canyon
Marsh Wren, 2021-11-23, Carpinteria Salt Marsh Reserve (restricted access)
American Pipit, 2021-11-28, Franklin Trail
Purple Finch, 2021-11-25, 1387–1415 Park Ln, Santa Barbara US-CA 34.44871, -119.61093
Wilson's Warbler, 2021-11-25, Franklin Park (Santa Barbara Co.)
Scaly-breasted Munia, 2021-11-28, Franklin Trail

Category 1 (seen on all 11 Carp CBCs):

Mallard, 2021-11-28, Carpinteria Salt Marsh Reserve (restricted access)
Bufflehead, 2021-11-28, Carpinteria Salt Marsh Reserve (restricted access)
California Quail, 2021-11-28, Franklin Trail
Pied-billed Grebe, 2021-11-23, Carpinteria Salt Marsh Nature Park
Rock Pigeon, 2021-11-28, Franklin Trail
Band-tailed Pigeon, 2021-11-28, Sawyer Ave bottlebrush
Eurasian Collared-Dove, 2021-11-28, Santa Ynez Ave and La Tierra Ln
Mourning Dove, 2021-11-26, Heath Ranch Park
Anna's Hummingbird, 2021-11-28, Santa Ynez Ave and La Tierra Ln
Allen's Hummingbird, 2021-11-27, 6935 Shepard Mesa Rd, Carpinteria US-CA 34.39411, -119.47048
American Coot, 2021-11-28, Carpinteria Salt Marsh Reserve (restricted access)
Black-bellied Plover, 2021-11-28, Carpinteria Salt Marsh Reserve (restricted access)
Semipalmated Plover, 2021-11-28, Carpinteria Salt Marsh Reserve (restricted access)
Killdeer, 2021-11-28, Carpinteria Salt Marsh Reserve (restricted access)
Whimbrel, 2021-11-16, Rincon Beach County Park
Long-billed Curlew, 2021-11-28, Carpinteria Salt Marsh Reserve (restricted access)
Least Sandpiper, 2021-11-28, Carpinteria Salt Marsh Reserve (restricted access)
Long-billed Dowitcher, 2021-11-28, Carpinteria Salt Marsh Reserve (restricted access)
Spotted Sandpiper, 2021-11-28, Carpinteria Salt Marsh Reserve (restricted access)
Greater Yellowlegs, 2021-11-28, Carpinteria Salt Marsh Reserve (restricted access)
Willet, 2021-11-28, Carpinteria Salt Marsh Reserve (restricted access)
Heermann's Gull, 2021-11-22, Carpinteria Bluffs seal haulout
Ring-billed Gull, 2021-11-28, Carpinteria Salt Marsh Reserve (restricted access)
Western Gull, 2021-11-28, Franklin Trail
California Gull, 2021-11-28, Carpinteria Salt Marsh Reserve (restricted access)
Royal Tern, 2021-11-20, Sand Point
Double-crested Cormorant, 2021-11-28, Carpinteria Salt Marsh Reserve (restricted access)
Brown Pelican, 2021-11-28, Carpinteria Salt Marsh Reserve (restricted access)
Great Blue Heron, 2021-11-28, Carpinteria Salt Marsh Reserve (restricted access)
Great Egret, 2021-11-28, Carpinteria Salt Marsh Reserve (restricted access)
Snowy Egret, 2021-11-28, Carpinteria Salt Marsh Reserve (restricted access)
Turkey Vulture, 2021-11-28, Franklin Trail
Sharp-shinned Hawk, 2021-11-28, Franklin Trail
Cooper's Hawk, 2021-11-28, Carpinteria Salt Marsh Reserve (restricted access)
Red-shouldered Hawk, 2021-11-28, Franklin Trail
Red-tailed Hawk, 2021-11-28, Santa Ynez Ave and La Tierra Ln
Belted Kingfisher, 2021-11-28, Carpinteria Salt Marsh Reserve (restricted access)
Red-breasted Sapsucker, 2021-11-27, 6935 Shepard Mesa Rd, Carpinteria US-CA 34.39411, -119.47048
Acorn Woodpecker, 2021-11-28, Santa Ynez Ave and La Tierra Ln
Downy Woodpecker, 2021-11-28, Franklin Trail
Nuttall's Woodpecker, 2021-11-28, Franklin Trail
Northern Flicker, 2021-11-28, Romero-Camuesa Rd
American Kestrel, 2021-11-22, Carpinteria Bluffs seal haulout
Black Phoebe, 2021-11-28, Franklin Trail
Say's Phoebe, 2021-11-28, Franklin Trail
Cassin's Kingbird, 2021-11-27, Santa Ynez Ave and La Tierra Ln
Hutton's Vireo, 2021-11-19, Santa Monica Creek
California Scrub-Jay, 2021-11-28, Romero-Camuesa Rd
American Crow, 2021-11-28, Santa Ynez Ave and La Tierra Ln
Common Raven, 2021-11-28, Romero-Camuesa Rd
Oak Titmouse, 2021-11-28, Franklin Trail
Bushtit, 2021-11-28, Sawyer Ave bottlebrush
White-breasted Nuthatch, 2021-11-28, Franklin Trail
Canyon Wren, 2021-11-28, Franklin Trail
House Wren, 2021-11-28, Franklin Trail
Bewick's Wren, 2021-11-28, Romero-Camuesa Rd
Blue-gray Gnatcatcher, 2021-11-25, Ortega Ridge pines
Ruby-crowned Kinglet, 2021-11-28, Romero-Camuesa Rd
Wrentit, 2021-11-28, Romero-Camuesa Rd
Western Bluebird, 2021-11-28, Franklin Trail
Hermit Thrush, 2021-11-28, Romero-Camuesa Rd
American Robin, 2021-11-20, East Carp. town streets — Carpinteria US-CA (34.3978,-119.5094)
California Thrasher, 2021-11-28, Romero-Camuesa Rd
Northern Mockingbird, 2021-11-28, Franklin Trail
European Starling, 2021-11-28, Franklin Trail
Cedar Waxwing, 2021-11-25, Heath Ranch Park
House Finch, 2021-11-28, Santa Ynez Ave and La Tierra Ln
Lesser Goldfinch, 2021-11-28, Santa Ynez Ave and La Tierra Ln
American Goldfinch, 2021-11-25, Franklin Park (Santa Barbara Co.)
Fox Sparrow, 2021-11-25, Ortega Ridge pines
Dark-eyed Junco, 2021-11-28, Romero-Camuesa Rd
White-crowned Sparrow, 2021-11-28, Santa Ynez Ave and La Tierra Ln
Golden-crowned Sparrow, 2021-11-28, Romero-Camuesa Rd
Savannah Sparrow, 2021-11-28, Carpinteria Salt Marsh Reserve (restricted access)
Song Sparrow, 2021-11-28, Franklin Trail
Lincoln's Sparrow, 2021-11-27, Romero Canyon
California Towhee, 2021-11-28, Romero-Camuesa Rd
Spotted Towhee, 2021-11-28, Romero-Camuesa Rd
Brewer's Blackbird, 2021-11-28, Franklin Trail
Orange-crowned Warbler, 2021-11-28, Franklin Trail
Common Yellowthroat, 2021-11-28, Franklin Trail
Yellow-rumped Warbler, 2021-11-28, Santa Ynez Ave and La Tierra Ln
Townsend's Warbler, 2021-11-28, Franklin Trail
House Sparrow, 2021-11-28, Franklin Trail

Total birds missed (most common birds first): 120

Category 1 (seen on all 11 Carp CBCs):

Green-winged Teal
Ring-necked Duck
Ruddy Duck
Eared Grebe
Western Grebe
Marbled Godwit
Black Turnstone
Pelagic Cormorant
Black-crowned Night-Heron
Great Horned Owl
Western Meadowlark

Category 2 (seen 5 to 10 times on the Carp CBC):

American Wigeon
Blue-winged Teal
Gadwall
Northern Shoveler
Northern Pintail
Lesser Scaup
Common Merganser
Horned Grebe
Clark's Grebe
Greater Roadrunner
Sora
Snowy Plover
Sanderling
Wilson's Snipe
Parasitic Jaeger
Short-billed Gull
Herring Gull
Glaucous-winged Gull
Caspian Tern
Forster's Tern
Red-throated Loon
Pacific Loon
Common Loon
Black-vented Shearwater
Brandt's Cormorant
American White Pelican
Green Heron
White-tailed Kite
Barn Owl
Western Screech-Owl
Mountain Chickadee
Rock Wren
Chipping Sparrow
Lark Sparrow
White-throated Sparrow
Red-winged Blackbird
Brown-headed Cowbird
Black-and-white Warbler
Yellow Warbler
Black-throated Gray Warbler

Category 3 (seen 2 to 4 times on the Carp CBC):

Brant
Greater White-fronted Goose
Wood Duck
Cinnamon Teal
Canvasback
Common Goldeneye
Common Ground-Dove
Costa's Hummingbird
Black Oystercatcher
Surfbird
Pomarine Jaeger
Rhinoceros Auklet
Elegant Tern
Golden Eagle
Gray Hawk
Northern Pygmy-Owl
Yellow-bellied Sapsucker
Pacific Wren
Golden-crowned Kinglet
Varied Thrush
Phainopepla
Harris's Sparrow
Swamp Sparrow
Hooded Oriole
Palm Warbler

Category 4 (seen 1 time on the Carp CBC):

Cackling Goose
Black-chinned Hummingbird
Rufous Hummingbird
Virginia Rail
Pacific Golden-Plover
Ruddy Turnstone
Red Knot
Solitary Sandpiper
Lesser Yellowlegs
Iceland Gull
Black Skimmer
Northern Fulmar
White-faced Ibis
Bald Eagle
Ferruginous Hawk
Long-eared Owl
Red-naped Sapsucker
Lewis's Woodpecker
Eastern Phoebe
Western Kingbird
Northern Rough-winged Swallow
Barn Swallow
Chestnut-backed Chickadee
Pygmy Nuthatch
Mountain Bluebird
Bell's Sparrow
Vesper Sparrow
Green-tailed Towhee
Great-tailed Grackle
Lucy's Warbler
Nashville Warbler
Blackburnian Warbler
Northern Waterthrush
Prairie Warbler
Hermit Warbler
Painted Redstart
Western Tanager
Rose-breasted Grosbeak
Black-headed Grosbeak

Category 5 (never seen on the Carp CBC):

Mountain Quail
Tropical Kingbird
Red Crossbill
Yellow-breasted Chat
Summer Tanager