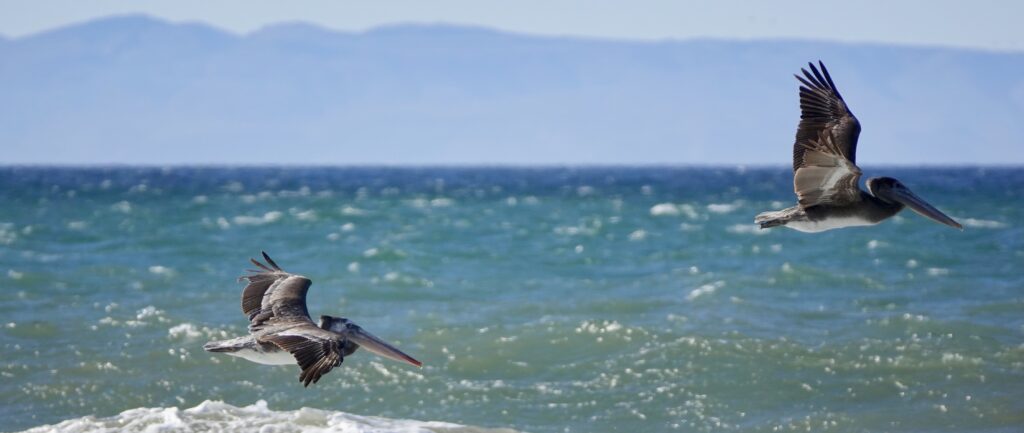 Over the past week birdwatchers in the area have been noticing brown pelicans showing up in places they aren't normally seen, like inland lakes. Now the following message has been sent out by the Santa Barbara Wildlife Care Network:
Over the weekend, SBWCN experienced an unusually large influx of brown pelican patients. In just two days, more than 30 brown pelicans were rescued and brought to SBWCN to receive care. Most of these birds arrived severely emaciated, weak, and unable to fly. The exact cause of their condition is unknown at this time.

These pelicans have been rescued from all over Santa Barbara and Ventura Counties. Most of them are beached, unable to fly or move, or are found in an unusual location. Our team of rescuers and volunteers have been retrieving and transporting these patients to our hospital in Goleta. Seven pelicans were rescued on Saturday, and 25 pelicans were rescued on Sunday. Reports of more birds are continuing to come in.

SBWCN staff are treating these patients by providing fluids, medication, warmth, and supportive care. The team is also working with other nearby wildlife centers to transport some of these birds and assist in their rehabilitation.

If you find a pelican you believe needs help, call the SBWCN Helpline: (805) 681-1080. Please provide a detailed report and the exact location of the bird. If you find a deceased bird, please do not touch or handle it.
Hopefully the rescued pelicans will be able to recover, and the larger issue that is affecting the local pelican population can be identified.